callY

è sviluppato da IPKOM nasce da anni di esperienza in progettazione VOIP: il Laboratorio R&D sviluppa software per la Telecomunicazione del 2003.
---

Le Attività IPKom

---
Ricerca e Sviluppo
Il  Laboratorio R&D di IPKOM è composto da Ingegneri e Tecnici con lunga esperienza in tecnologia VOIP, perfettamente in grado di gestire al meglio le situazioni più complesse. Si sviluppano soluzioni innovative, personalizzate e altamente performanti.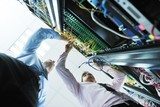 Progettazione e Realizzazione
IPKOM progetta e realizza sistemi VOIP per Operatori telefonici (ISP,ITSP), call center, aziende multi sede e istituzioni ramificate (Pubblica amministrazione, gruppi bancari). La soluzione IPKOM per gruppi bancari è stata certificata come sicura da società indipendenti di auditing.
---

Prodotti e Servizi

---
Ipertel – Linee telefoniche Voip di qualità – www.ipertel.it
Ipertel è un servizio di telefonia alternativo a Telecom Italia che utilizza esclusivamente tecnologia IPKOM. Con Ipertel accederai al traffico telefonico di qualità di vari operatori nazionali ed esteri ottimizzando i costi. Come cliente Ipertel avrai la possibilità di monitorare l'uso delle linee telefoniche attraverso un'interfaccia web completa ed efficiente.
Unikom – Fax to Mail, Mail to Fax, Mail to SMS Services – www.unikom.it
E' l'avanzato sistema di Unified Messaging sviluppato da IPKom che integra un sistema di FAX To Mail, Mail To FAX e che consente di inviare e ricevere FAX in formato pdf attraverso il proprio account di posta elettronica, con la possibilità di integrazione di sistemi esterni alla piattaforma come gestionali e CRM.
Smartketing – Software per Call Center e Contact Center – www.smartketing.it
Smartketing è il software completo per la gestione di un Call Center o di un Contact Center. E' completamente Web Based e permette ad un Call Center di gestire i contatti, ottimizzare le chiamate in ingresso e uscita, eliminare i tempi morti e quindi aumentare decisamente la produttività individuale.
Cubo – Soluzioni per Operatori Telefonici – www.ipkom.com
VCUBE è la Centrale Telefonica che permette al Service Provider di offrire il servizio di telefonia VoIP ai suoi clienti o di integrare altri servizi in infrastrutture esistenti. Molti WISP (Wireless Service Providers) hanno iniziato con VCUBE ad offrire il servizio di telefonia diventando ITSP, ovvero VoIP Providers.